How to change the IP address of POS80 thermal printer?
Becky OCOM 2014-12-12 19:05:05
1. The printer is connected directly with the computer (the first three paragraphs and the need to ensure consistent printer IP of the computer)
a. Check the printer's IP address, direct view from the self-test page.
b. Check the IP address of the computer.
Find the computer's IP address and default gateway. If you do not appear, click Properties, find TCP / v4 to see. 
Then enter the printer's IP address in the IE browser, enter the following interface: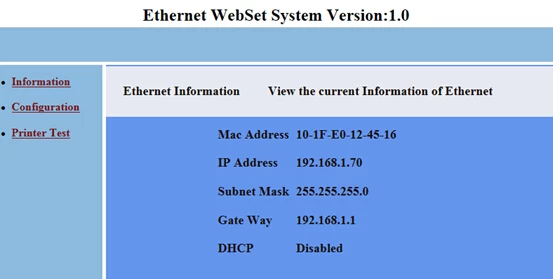 In the Configuration Device IP Address can modify the printer's IP address, after Save to add it to the LAN, which is connected with computer use.

Before modifying the IP address, the IP address is the first detection of an IP address conflict with other LAN, as follows:
Click Start, type CMD,
Enter into the ping, enter the IP address space, and then Enter.
1. The printer is connected directly with the router
Make sure the printer powered on, the router will connect the network cable connected to the printer Ethernet port, install POS80 drive, add TCP / IP Port Enter the printer's IP address → Next → Complete → select just added port → Application